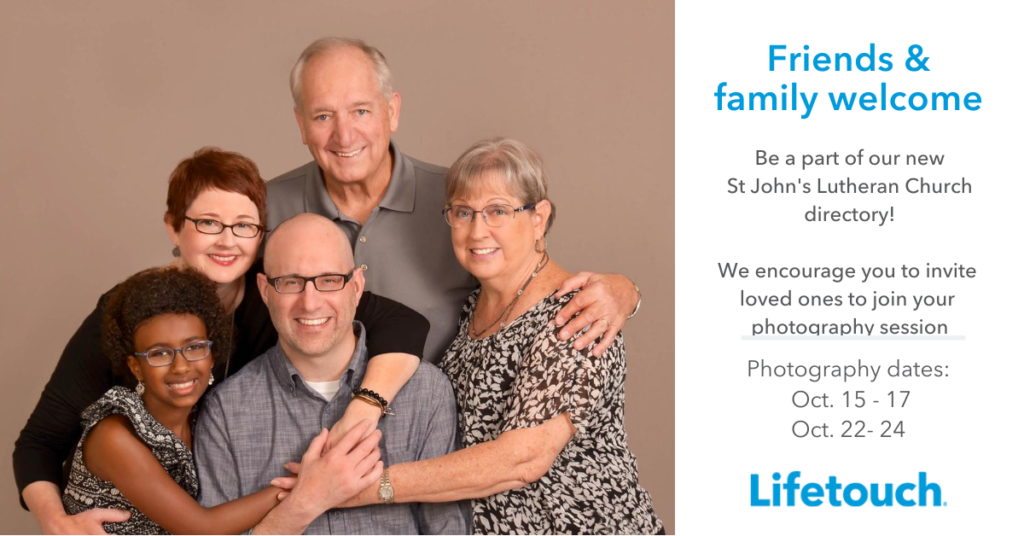 We are partnering with Lifetouch for photography for our church family directory. Lifetouch is providing the directory at no cost to our church. Every family photographed receives a complimentary directory and an 8×10 portrait.
Beginning August 20, you can sign up for photography here on our website
Or you may call the Lifetouch Company at 1-866-756-0281 to schedule your sitting.
We will also be holding onsite sign ups after services beginning the weekend August 29/30.
Photography dates and times:
Thursday and Friday, October 15-16 from 2-8 pm
Saturday, October 17 from 10 am-4 pm
Thursday and Friday, October 22-23 from 2-8 pm
Saturday, October 24 from 10 am-4 pm
For your convenience, all photography and portrait viewing will take place at our church with no sitting fee. You will have a variety of poses taken and one pose will be selected for the directory. In addition to your complimentary 8×10, you will have the opportunity to purchase additional portraits on the day of your portrait session. Lifetouch offers a 20% Senior/Military/First Responder Discount. If you provide Lifetouch with an email address, you will receive a $10 off coupon! Watch our newsletter, website and Facebook page for more information!
Be sure to take advantage of the opportunity to be professionally photographed. We are looking forward to 100% participation!